Patient Testimonials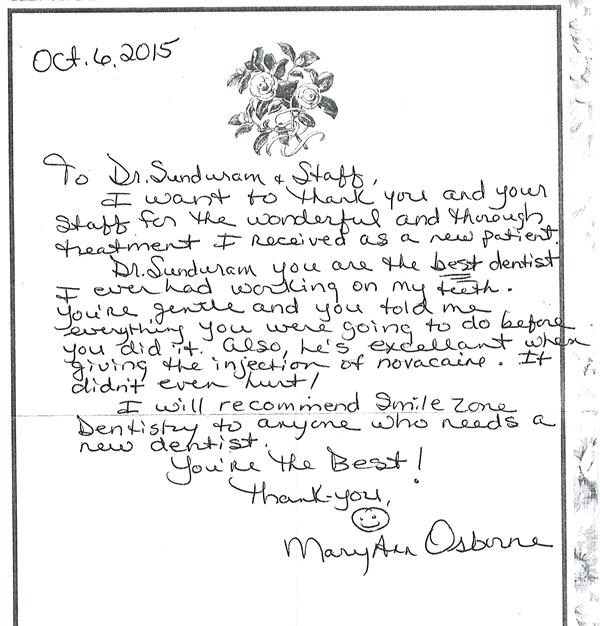 ---
Invisalign Reviews
Dear Dr. Bajaj,
I can't thank you enough for suggesting the Invisalign braces (for many reasons beyond "cosmetic"). I am almost done with my top set and am more than halfway through the bottom set.
There are so many GREAT things about them:
popping them in and out so easily,
minimal to no discomfort in using them (when you first put your new braces in, they feel "tight"),
the speed with which my teeth have moved,
having so many sets of braces (given at one time) that I replace every 2 weeks has cut down the needed visits to the dentist,
and the "added bonus" was losing some weight as I didn't want to constantly take the braces out to eat, unless it was a meal!!
I would do this all over again! I'd be happy to answer any questions a future patient might have if they are unsure of starting this procedure.
And, YOU have been so positive and pleasant to deal with. Thank you for everything.
Sincerely,
Patti
---
Dr. Bajaj,
The Invisalign treatment has been a blessing. Following my uncomfortable experience with braces as a teenager I was hesitant to give orthodontics another chance, especially as an adult. Not only an unattractive procedure, I found traditional braces painful; the adjustments, the rubber bands, and the sharp metal edges caused unnecessary discomfort. As my teeth began to reveal the consequences of refusing to wear the traditional, uncomfortable retainer from my former orthodontic work, I consulted my dentist about Invisalign.
I became accustomed to my first "tray", or Invisalign treatment, in less than one day, after which my speech was such that no one knew I was wearing Invisalign. Every two weeks meant progressing to the next set of trays and the movement my teeth experienced was significantly less painful than braces. Months elapsed and only family and friends noticed a shift in my teeth and never the Invisalign itself. In fact, more often than not I only remembered I was wearing the trays when I tried to eat, an activity that requires Invisalign removal and is impossible if not removed. The convenient case provided for safe keeping while eating and the ease of removing the Invisalign made eating anything so easy compared to braces. My experience with Invisalign and being a firefighter was pleasant and I never experienced problems with trying to communicate. I obtained the results I not only desired, but also expected after watching the video progression of my teeth over the course of treatment. I highly recommend Invisalign to others and the caring and knowledgeable staff at Smile A Bit Dentistry for all dental needs.
Roger